---
特點說明 FEATURES
1.本機採用先進變頻馬達驅動操作。
2.全機CNC加工,主體結構堅固,零件少、震動小、定點準、耐久用、容易維修。
可選配伺服馬達。 並新增選配 自動高度微調機構或手動高度微調鈕 調整機構。
3.無傳統端子機離合器、電磁鐵等機械式傳動等噪音,提供操作者超靜音的工作環境。
4.變換底座及上卡頭可搭配各廠牌橫、直式卡模。具廣泛實用性,可搭配於全自動機上。
1. The Inverter motor or Serve motor is adopted in this machine for operation.
2. Main body construction by CNC , strong tough , less vibration , accuracy , endured usage and easy for maintenance.
Option servo motor and new design adapted for manual height adjustment or automatic height adjustment mechanism.
3. This machine does not have parts like clutch, solenoid or any other traditional parts that makes loud noise.
Thus, it provides a noiseless working environment for the operator.
4. By changing the base plate and the applicator fix head, side or end-type applicators from different brand can be used.
This machine can be used in a wide range and It can be set on to the Full Automatic Machine for more usage.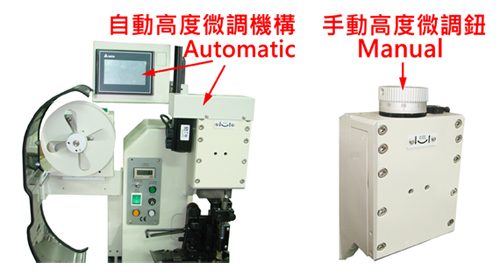 規格 SPECIFICATIONS
| | |
| --- | --- |
|  機  型 MODEL |  FE-2TC |
|  外觀尺寸 DIMENSION |  360mmx550mmx530mm |
|  重  量 WEIGHT |  100 Kgs |
|  電  源 POWER SUPPLY |  AC 110V / 220V 50/60HZ |
|  操作方式 OPERATIONS |  單動腳踏開關 Single pedal switch |
|  出  力 STROKE STRENGTH |  2 Ton |
|  衝  程 STROKE |  30 mm |
|  馬  力 HORSE POWER |  1/2 HP |